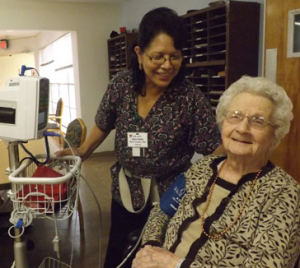 Medical Director
Physicians on Call
Registered nurse coverage seven days per week
Licensed nursing care 24 hours per day
Certified nursing assistants 24 hours per day
Rehabilitation services (physical therapy, occupational therapy, speech therapy)
24 hour pharmacy
Dietary Consultation
Resident Transportation
Patient Trust Fund
Activities
Chapel
Beauty Salon
Laundry & Housekeeping
Warm loving care
Residents in our nursing communities are under the care of physicians who visit regularly and are responsible for the resident's overall plan of care. When individuals enter the community, physicians write orders for necessary medication and play a role in the development of the resident's care plan, including restorative and rehabilitative procedures, special diets, and treatments. Nursing services include assessments, treatments, injections, coordination of care and medication administration. Rehabilitative services such as post-hospital stroke, heart or orthopedic care are available in addition to related services such as physical therapy, occupational therapy, or speech therapy. Dietary consultation, dental, laboratory, x-ray, pharmaceutical, psychiatric, audiology and wound care services are also available.
Our nursing care communities are staffed with well trained, caring and devoted employees.
Admission Policy
We are a totally open admissions policy community and do not discriminate in any way against race, age, gender, religion, creed, disability or national origin.