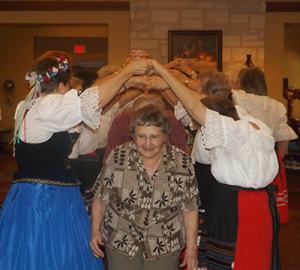 SPJST is a fraternal benefit society that was chartered in Texas on July 1, 1897. It was formed by Czech immigrants who came to the United States and settled in Texas. This fraternal organization provided these immigrants the economic security of fraternal life insurance and a chance to learn and apply the democratic processes of their new adopted homeland and become better citizens. The members of SPJST organized into local lodges where they have business meetings and social and fraternal activities.
During the 1956 convention of the SPJST membership, it was recommended that SPJST sponsor the establishment of a home for the aged. The delegates approved the concept of constructing a home for the aged and allocated $100,000 for the construction of a community in Taylor. This community was to be a legally incorporated self-governing and independent non-profit organization governed by a Board of Directors elected from each of the seven districts of SPJST. The first nursing community in Taylor, Texas was opened in 1957. This community has 74 beds. A second nursing community of 58 beds was opened in Needville, Texas in 1972. In December 2003, a 24 bed assisted living community was opened in Taylor, Texas. Expansion of the assisted living community took place in 2009 with the addition of 36 additional apartments.
The Board of Directors of the S.P.J.S.T. communities of care is committed to providing the highest quality care for our guests. High quality of care for the aged was their original mission. This continues to be their focus as they move forward in planning for the future health care needs of the aging population in Texas. The staff in these communities consists of many local residents who have strong ties to the local area.
They are aware of the Best Practices principles in this state and nation. Our active in-services and education programs keep our staff abreast of the changing environment and expectations of today's clientele. We have moved from institutional to individualized resident care.